What is Contact Communications Logging?
CCL is an add-in for Microsoft Outlook that helps you manage contact-related information and share it across the enterprise. It tracks communications and events pertaining to your company's clients, and places that information at the fingertips of your employees.
The software provides a more powerful version of Outlook's Journaling feature, adding the ability to work with public contact and journal folders.
See what our customers are saying about this product on the CCL Testimonials page.
What can it do?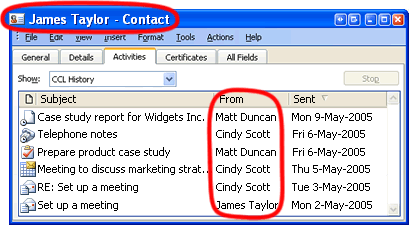 Perform journaling to a public folder
The software maintains a communications history for each of your company's contacts and makes it available across the enterprise.
This history consists of all email, appointments, tasks, and any other Outlook items that are associated with a corporate contact. CCL automatically finds these items when you save, send or receive them, and logs them to a public folder.
Other users can then open the client's Activities tab to quickly view all communication between your company and the client, as well as related Outlook items and files.
Implement Shared Folders and Contact-Based Routing
CCL can automatically move new items you create from your personal folder to an appropriate shared folder, whenever the new item is related to a corporate contact. This will enable your team to work on those items collaboratively.
Simple workflows can also be created to route or copy Outlook items between folders, based on which contacts they relate to. This makes the software a powerful replacement for Outlook's built-in Journaling feature.
Features
| | |
| --- | --- |
| · | Runs exclusively within the Outlook / Exchange framework - no separate data files are required, so there are no synchronization issues and you always have up-to-date data |
| · | Compatible with Outlook Web Access, and any other software that accesses your information store while you are out of the office |
| · | Can maintain simple audit trails for logged items |
| · | PDA-friendly (compatible with Palm Hotsync and Microsoft ActiveSync software) |
| · | Enterprise tools available for remote deployment and centralized application management |
| · | High-speed caching of data from the server, even without Outlook 2003 |
| · | Background operation; transparent to the user |
| · | Multiple tracked folders can be set up with Exchange security so that communications with confidential contacts are tracked securely |
Popular Applications
·

consulting firms that track all communications with their clients for legal / compliance purposes

·

human resource departments wishing to retain a log of applicant progress through the phases of hiring

·

support centres that need instant access to the last communication with a customer, even if the previous conversation was with another call center

·

any firm that wants to improve its CRM
Requirements
Microsoft Outlook 2000, Outlook 2002 (XP), Outlook 2003, or Outlook 2007 must be installed on each workstation that will utilize Contact Communications Logging. Leapbeyond Solutions recommends the most up to date services packs be installed. Initial testing on Outlook 2010 shows CCL runs and logs items, however the Outlook UI does not support Activities search so the logged records cannot be viewed. This might be addressed in a future service pack.
Purchasing
A free trial version can be obtained at www.leapbeyond.com/software/DownloadCCL.asp. It will run for 30 days before you must purchase a license. Licenses may be purchased online at www.leapbeyond.com/shop.
You can download the CCL Help Documentation for more information.